This post is also available in: Ελληνικα (Greek)
Interview with Giorgos Fasolis
The first time I heard African drums was the summer of 2010 at Six Dogs in Athens. I will never forget how I felt that night. Djembe has a deep, intoxicating sound, reminiscent of the heartbeat, which builds an explosive atmosphere with earthy rhythms that activates the whole body. I feel like djembe can unlock our secret sides…
That night I met great people and of course the musician and teacher Giorgios Fasolis!
Giorgos is a special person, creative and active with open horizons who inspires you! He is a great teacher, who reveals hidden treasures and magic to his students. His team, Kabeiria Percussion is full of positive energy!
I experienced amazing moments in music workshops in Nature organized by Giorgos and performances of Kabeiria percussion in Genalthon, Quilombo, Metapolis, Ghost House, T.A.F, Playground and other artistic venues.
We recently had a Skype meeting and he shared some stories with me from his musical journey, his love for African drumming which has healing powers that help improve self-expression, communication skills and team bonding.
African percussion can turn people into extroverts. It helps us to develop our communication with others, but also to have a deeper relationship with ourselves.
Hello George! How did your connection with music first start?
I had a great love for drums from my school years. I used to take my mother's plastic containers and attach them to my office drawers, like a drum set so that I could play. I had a friend from the neighbourhood, with whom I was creating experimental music using plastic containers, metal objects, and glasses and then we started recording the rhythms. Eventually in high school, I learned that the municipality of Keratsini where I grew up, had drums and so I started classes there. Unfortunately, after six months we stopped because we were bothering the library of the cultural center, which was downstairs. But of course, that was enough for me to increase my passion for drums. It's different to play on plastic containers and different to play drums!
In high school we were playing on a second hand guitar that my brother bought for a low price from a street seller. Back then my brother was playing in a band with his friends and sometimes I was going in the studio they rented in Faliro, to listen to their music and I was playing drums. This was my first contact with music during the school years.
When I went to the engineering university in Chania, I met many musicians and foreign travellers that played live music in bars. I specifically remember a jazz bar called "The Fangoto", which I really liked, and another bar that had DJ nights with percussion music. I was a student at the time and I didn't have much money, so I used to sit outside and listen to music all night long. I had also met a musician who played on the street every night, and we hung out. He showed me a little guitar and I played alone for a year.
The next year I took my exams and passed with enough to get into the Agricultural University of Athens.  So as a present my parents bought me a flute, I started taking flute classes with a teacher in Pagrati whilst still playing classic guitar in music school. Eventually I then started piano classes, but after decided that I wanted to focus on developing my guitar skills further.
When and why did you decide to get into African drums?
At that time in Greece, everyone was learning guitar and piano, and my teacher told me that I can't make a living with the guitar, so she suggested that I teach music. In 1992 I realized that my financial situation was difficult so I started teaching the "Orff Approach" at the School of Music Pedagogy, which is a method of combining speech, music and movement. There we had many mandatory percussion lessons: classical modern and traditional percussion. And that's how I got the percussion bug!
After two years I finished teaching at the school and I attended classes on traditional Greek drums with my teacher Michalis Klapakis, who had his own music school.
I first heard African percussion in 1995 at a seminar in Salzburg, where two Austrians were playing djembe at a party and I really liked it! In the summer of 1998, I went to a multicultural festival in Hydra, where an African puppet theatre group performed a djembe show. I loved it so much that I asked a musician after the performance to show me how to play. I remember we had a night lesson on the hill! The same summer, I met Lefteris Grigoriou, in an African concert at the castle of Nafpaktos during a full moon. In September 1998, I started taking African percussion classes at 'Takis percussion' where I stayed for about 6 years.
Tenerife – Famοudοu Konate
Which musician inspired you to start playing African drums?
Lefteris Grigoriou was the teacher who first introduced me to the world of African percussion. He was the first person who brought djembe to Greece. His music is very original, it combines gaida with African percussion, giving a Balkan sound to the African rhythms!
Tell us a little about the history of djembe. How would you describe its sound? Do you believe that it has a widely played across Greece?
The name djembe came from an African phrase: Anke Dje-Anke Be, which means to gather all together in peace. It originates from West African countries such as Mali, Guinea, Senegal, Burkina Faso and the Ivory Coast. It also exists in other areas, but that's its original home. In Africa it's played at all social events, christenings, weddings, funerals, when a child is born, in adulthood and in agricultural work.
It is an old instrument, which has a special sound and awakens primitive instincts. It has a very beautiful, powerful and dynamic sound that travels you. The djembe has three primary tones: the (closed) tone, the slap (or open) tone and the bass tone. You can also make some other sound effects. I think people like it a lot because of its rich bass and high-pitched, open, sharp whiplash-like sound. This sound touches some strings inside us. Its rhythms are very groovy, always accompanied by dance or a song and can often lead to ecstasy.
It has become very popular all over the world! It is less well known in Greece than in Italy though. I don't know how African culture and especially dance has spread in Italy so much. They have many African master teachers in all cities and villages. And even in the smallest cities, they have dance and percussion schools. I think that's the reason why it has not spread so much in Greece, is that the Greek tradition is still very strong and has gained the interest of the youth through music schools. There is a tendency to discover our own Greek and traditional music and this element is very strong.
Which African workshops, festivals have been unforgettable for you?
The "Mama Africa" ​​festival in Tuscany! It's an inconceivable experience for me, I can't describe it with words. Someone has to experience it. I've been there at least three or four times.
Fortunately, many African and European teachers come often to Greece as guests from various schools, such as Haruna Dembele, Mare Sanogo, Davide Torti, and Dino Chinopoulos.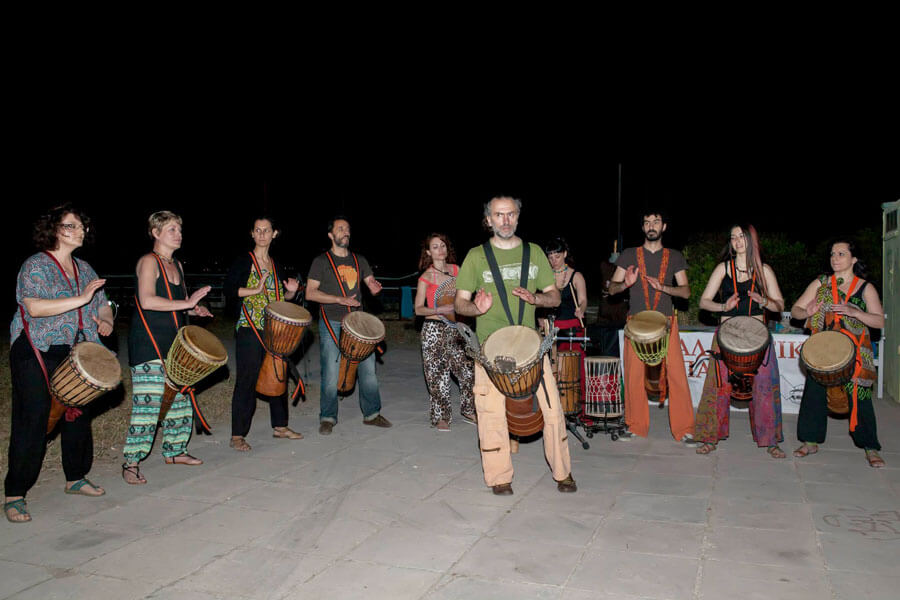 (From left to right)Metapolis – African Bazaar, Alternative Festival – Alimos
(From left to right) Genathlon, Festival in Technolopolis-Gazi, Festival in Komeno Artas.
How important is it for a musician to travel? Do you like to play music in nature?
Travel is a source of inspiration for a musician! My first contact with the musicians was in Crete, where they usually played outside, so this is my first image. I've always loved playing music in nature!
One of my greatest experiences was a workshop we organized in Pelion at 2016 with Dino Chinopoulos and Seli Kanou, who brought one of the greatest African masters alive. The seminar took place in a village of Pelion, in a very dense forest like a jungle.
I can imagine the sound of djembe inside the forest. It must be an unforgettable experience. I have heard that the wood of djembe is alive, like some traditions say it's the soul of the tree.
Yes. There is a belief in Africa that they have to ask the tree they choose to make a Djembe if it allows them to cut it, so the Djembe that will be made is also good. The good Djembe has a spirit!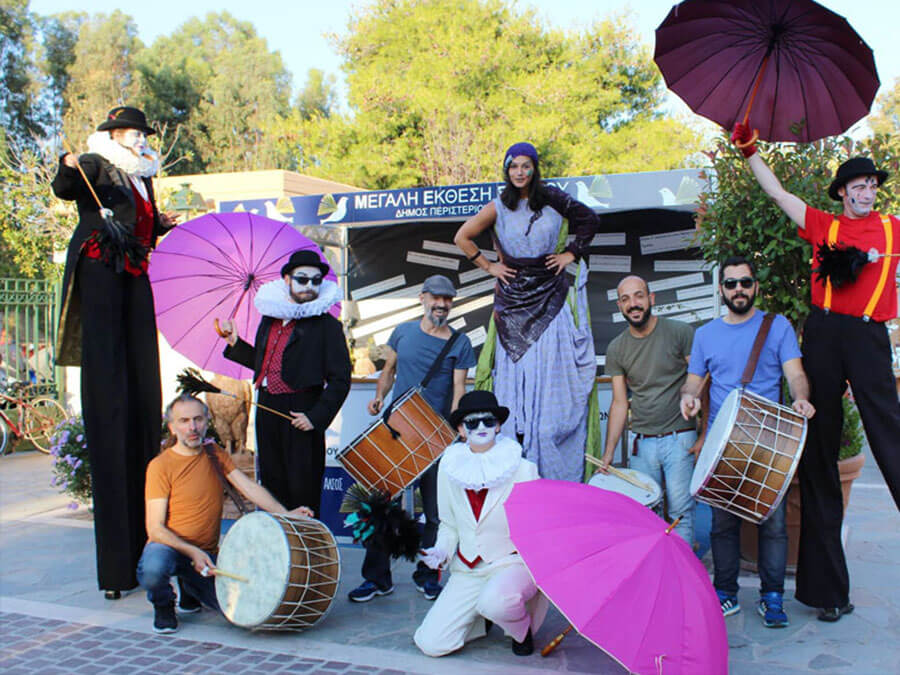 Book exchibition – Peristeri
There is a belief in Africa that they have to ask the tree they choose to make a Djembe if it allows them to cut it, so the Djembe that will be made is also good. The good Djembe has a spirit!
Parade of percussion by the sea – Corinth
Are you thinking of organizing a workshop this summer in Nature? Do you think that travel helps team bonding?
This year I will participate in a seminar in Gavdos, called Psychodrama from 27/7 to 2/8. It is psychotherapy through the arts. Seminars will include dance, painting, theatre and creative writing. In this context I will do a percussion labs. I really like using natural materials in these seminars. Participants will use wood, stones and will make shakers with sand, but also use everyday objects.
I'm also thinking to organise of an alternative percussion sailing camp at the end of August. I did one in the past and it was a fantastic experience to groove on board! We went down to the beaches with the percussion, we cooked together, swam together. All these activities in nature help the team become closer!
Do they make Djembe in Greece or do you order from Africa?
As far as I know, in Greece they make djembe from Athanatos trees which have thin trunks with thicker roots, so the roots are used to make djembe. However, it is a soft material that does not match the sound of an original djembe, resulting in something similar but not quite the same. For me it's a special percussion instrument. I would recommend ordering from Africa, where djembe are made of from African trees.
I know you've taught in schools. How important do you think it is for kids to learn a percussion instrument?
I was teaching flute in schools and with the parent's agreement, I added drum percussion to the after-school activities. Sometimes we also put drums in the regular music lesson program.
Definitely percussion is easier in technique and use, for a child and is can be taught as a group lesson, which is very important in schools. In the smaller class's percussion is nice as it improves the team spirit, which is also very important at a young age. Once the child grows up and enters elementary & high school, there they can more easily do an individual lesson. After 5-10 minutes, a little kid usually wants to get up and run and cannot concentrate on playing an instrument alone. At school we are interested in team work, orchestra, synchronization and collaboration!
Percussion is good because you can hold it in your hand, sing and express yourself physically, which is always very interesting from an educational perspective. You can loosen your body, move, sing, dance, change directions and play rhythms at the same time. Percussion helps a lot in many functions of the brain.
"Lion King", School performance in private school-Alimos
Definitely percussion is easier in technique and use for a child and is can be taught as a group lesson, which is very important in schools.
What music education method do you use for African drumming rhythms? Is it easy for an adult with no previous music experience to start playing African drums?
You can start with the rhythmic speech, then move and start playing the instrument. Or you can start with movement and that will lead you to rhythm. You can start from whatever you want, but it's important to apply them both together. When you learn a concept in music, that concept usually exists in the movement as well. For example, teaching a child to move up when they hear a high-pitched note and to move down when hear a low note, this method makes it easier for a child to understand. Combining all these elements gives a comprehensive approach to teaching the child. When you sing in rhythmic syllables, "dum tek, te-ke te-ke" all this helps you to experience and remember a songs rhythm and then you can play it on the instrument more easily.
Everyone can learn. Some may need to put in more effort, whilst others might learn easier but everyone can so long as you try. If you love it, you will definitely find a way to do it. Being in a team helps a lot, because even someone who has difficulties with rhythm, can listen to the team and follow a lot easier.
Presentation with children percussion team , 'Poliphonica" – Megaro Mousikis
.
How can African drums help communication within the community? Do they have therapeutic effects?
Djembe can help a lot in team bonding through collaboration. African percussion is by nature made for groups. African rhythms have a polyrhythm, each playing a different rhythm and all together trying to synchronize. This is a beautiful challenge.
Rhythm helps a lot in communication. From time to time new students and foreigners from different countries come, who may not even speak the language so we only communicate with the language of music!
African percussion has therapeutic effects. Maybe that's why many people use it in yoga classes. These vibrations, the bass, hit your chest directly. I think that Djembe sounds create vibrations in the body, and touch some strings inside us. You can certainly express a lot with the percussion. Many cultures, such as the Sufi, performed rituals and vortices to communicate with god through percussion. This feeling is very strong! The rhythm is very intense, it creates the tendency to dance. African percussion can turn people into extroverts. It help us to develop better communication with others, but also a deeper relationship with ourselves.
Describe the place you are teaching now. What classes do you have?
Now I am teaching in Casa de Arte Kabeira. It's an artistic place with multiple classes. In one room there are dance classes and in the smallest room, I teach percussion. We are lucky because the school has windows with a great view of the Acropolis! It's also close to metro Monastiraki
I met the dancer and manager of the school, Gianna Alamanou, at a music festival. We decided to cooperate because we realized that we can work well together. At school, we have many notable artists who teach African, modern dance, popping and ground acrobatics. In the percussion section Ι teach African percussion Djembe and Dumdum, Greek traditional percussion, oriental, Arabic and modern drums, cachon and boom whackers. I mainly have classes for adult students, but also a class for teenagers.
Teenager percussion group in Casa de Arte Kabeiria
When you learn a concept in music, that concept usually exists in the movement as well. For example, teaching a child to move up when hear a high-pitched note and to move down when they hear a low note, this method makes it easier for a child to understand.
Adults group play boom whackers in Casa de Arte Kabeiria
West African music is functional and related to the activities of daily life. Is it important for someone to understand the culture and the story of the rhythm while playing? Do you have any stories for us?
Υes, it is good to make a reference to the history of the rhythm. I'll tell you about a rhythm that reminds me of our own Greek story. It's called Moribayassa and they play it when a wish comes true. It's like the ex-voto used in the Greek Orthodox Church. If the wish is fulfilled, many believers walk on their knees to the church in Tinos. The equivalent in West Africa is when a wish of yours is fulfilled, then you dance to the rhythm of Moribayassa. You don't dance exactly, but you wear torn clothes and roll around on the ground.
How do you feel when African drums are accompanied by African dance?
African dance has been inextricably linked to African percussion. You feel that they have been made to be together and that their purpose is being fulfilled. It is a very intense moment when dance and percussion coexist. It enhances the dancer's connection with the musician and you can feel the energy rising.
Especially percussion instruments don't have a melody, so you have to find a way to get the melody hidden within.
Festival Technolopolis – Gazi
What is the biggest challenge you have had to deal with during your musical journey as a teacher?
Something that has been unforgettable for me, difficult but also beautiful, are the groups of immigrants' children and teenagers. I was teaching African percussion in a multicultural school and in the group ''Poliphonica'', with children from different countries, where we had very strong moments!
Also a big challenge for me was when I was teaching percussion to children who had been imprisoned and were in the process of being reintegrated. In fact, sometimes we went to adult prisons and did percussion activities. The response from the children is very moving there, how much they liked and needed it. They did not want us to leave the prison and all this disturbed them. Unfortunately, that program stopped. It was very nice, but they don't want people is prison to be disturbed and noisy.
Sometimes I met children on the street from the reintegration programs who grew up and have their own family and they still remember me. It's very moving, these experiences have been unforgettable for me!
Tell us how the project ''Kabeiria Κabiariana Kassa'' came about? And what does the title mean?
The school is called Cassa de Arte Kabeira and the percussion. Kabeiria percussion emerges from the Cabiria mysteries of Samothrace. It was Gianna's idea, but I also liked it, because the percussion is part of the ceremony, the primitive pagan elements seemed to fit.
The project we did during the quarantine period is called Kabeiria Kabiariana Kassa. Kassa is a rhythm played during harvest, to inspire farmers while they work. I searched for the name quarantine in various countries in the world and found in Swahili, in African, that it is a word Kabiriana that resembles Kabeiria, the name of the school. So the title we put in the first video was Kabeiria Kabiriana Kassa and in the second version it was Kabeiria Quarantine Kassa.
We are going through a very difficult period and Percussion helps in communication, but now due to the situation you couldn't get in touch with people up close. So, technology is a new challenge!
The Kabeiria Kabiriana Kassa project kept us creative during the quarantine period. These difficult times sometimes unite the team the most! We had some discussions to see how we want the direction to be. At first, we didn't think about including objects, then I suggested that we could use things from home, such as pots, objects from the bathroom etc. Each of us shot a video with our own chose of instrument and then we combined them. It took us a long time and we had difficulties, but we were not discouraged. One of my students, Elias, who is involved in music programs, helped with audio editing and a friend of ours, Dimitris made the first video montage.
What advice would you give someone who wants to become a Djembe teacher?
First, I would tell him that this is a great idea and I would encourage him. You definitely have to love it, because it has a lot of difficulties. When you love it, you find the strength to overcome the difficulties. It requires constant searching, to have open horizons, not to dwell on one point of view. You need to research, to see all the new trends & to be informed, because new techniques in music are constantly coming out. You need to be constantly on the alert, evolving so that you can pass all of this on to your students.
It's a good idea to have a general interest in music, not just rhythm and percussion but a broader education to have a more complete musical perception and approach. It is important to try playing different instruments. It helped me that I played the guitar, flute, piano and outie. Also, you need to explore other cultures, such as the traditional percussion of the Mediterranean and Asia. This research opens your horizons, you see the relationships and differences and you can find ways to unify them as a teacher.
Especially percussion instruments don't have a melody, so you have to find a way to get the melody hidden within. This is difficult to discover and it helps if you have played other instruments. You have to take a breath, playing the drums isn't flat. Percussion is easy to play and sometimes some self-taught people abuse it. It is a difficult instrument and requires respect, dedication and study.
George, thank you very much for sharing stories from your beautiful musical journey.
I will close by inviting you to play with us.
Yes, I would like to play, especially in nature!
For those interested in finding more information on Kabeiria Percussion check out the links below.